The one-form entry school in Putney wasn't short of books – they had nearly 5,000 – but when Amanda consulted with her Year 6s in 2019 they were very keen to have a proper library. "We made our library into an art room 10-15 years ago, though we made sure each classroom had a vibrant book corner. Our library books went along corridors, but it was higgledy-piggledy and wasn't well used," says Deputy Head, Amanda Bishop from St Mary's recalling the library makeover project.
The opportunity came when the reception area was upgraded. "We thought we'd use the small new study room for teaching, group work and music lessons, but I felt we had an opportunity to make it into a space with books."
Amanda is a self-confessed ideas person. Knowing that she, "didn't have the expertise to organise a library, and that it was a project that was important 'to do properly' she went to Wandsworth Learning Resources Service with a group of Year 6 children to find out just what they wanted and turn it into an action plan. When the pandemic meant everything moved online their library project stalled, but the £4,000 budget agreed by the Head Teacher and governors (thanks in part to that action plan and timeline) was protected.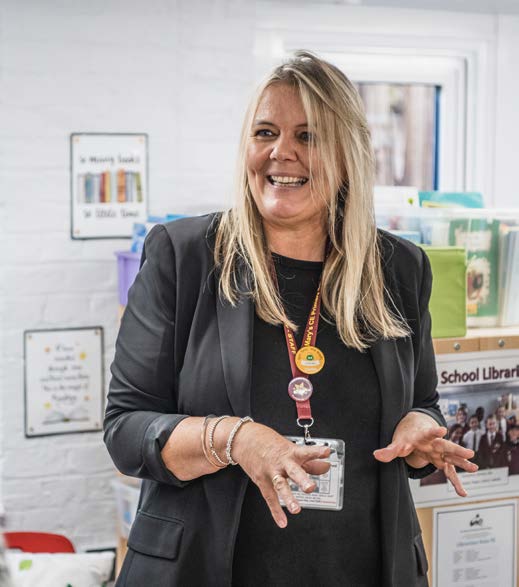 Post Covid-19, the remit changed a little.
"We knew we wanted a space for children to really enjoy reading and mixing it with a study space – so now we do call this small space a library. It is a place to celebrate books in a relaxing enjoyable space," says Amanda who helps manage it with Year 6s librarians.
"It's so nice to hear that," says Wandsworth Learning Resources Service (WLRS) librarian J, beaming as the Deputy Head describes a typical Friday library lunchtime with Year 6s relaxing on bean bags reading their favourite books – The Gruffalo, Gorilla and Hairy Maclary – to the Year 2s.
The project was led by Wanda Gajewski the Senior Librarian at WLRS who has much experience with school library developments. Amanda found WLRS's advice and skill at re-organising the books invaluable. It's a plus that the books are well organised so children can access them easily and know where to put them back.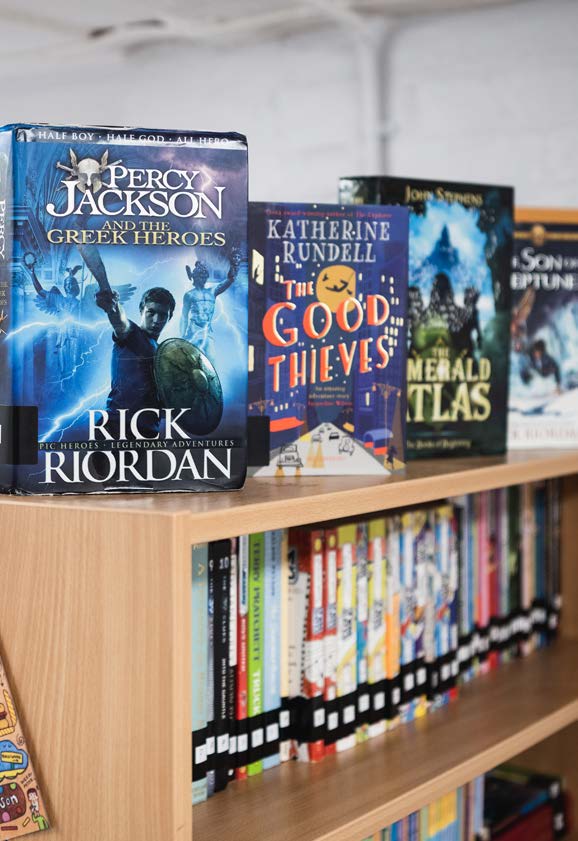 "We re-labelled 3,162 to form the base of the collection, the remaining 1,606 were inappropriate, out-of-date or in too poor condition to go into the library," says WLRS librarian, J. "My predecessor had put a lot of thought into how to arrange it. Then when covid regulations relaxed a bit, I came in and made a few extra adjustments."
Wanda and J also labelled books, made suggestions about how tolay out the space to make it easy to use for different activities. Bean bags were added after WLRS talked to students.
Amanda remembers it as a fuss-free time. "WLRS were brilliant, with an action plan of exactly what they were going to do and a clear vision. I had all these ideas," she says, adding that WLRS worked out "what was feasible, who was going to do what, what resources I needed to get and even advice for where to get shelves (via links). It was bespoke to the school and had a timescale of what we needed to do when."
Library making can be a decision minefield, but J points out, "WLRS staff have helped set up many libraries, taken consultations from teachers and pupils and integrated that in a cohesive and rigorous way.
Even with the simplified Dewey system (used across Wandsworth) there are all kinds of small decisions and options along the way – for example do you put Spaceship books with Space or Vehicles? Anyone could make those decisions, but WLRS librarians work with the curriculum every day making it easier and quicker for us to hit the ground running. Therewas a timetable and action plan from word go.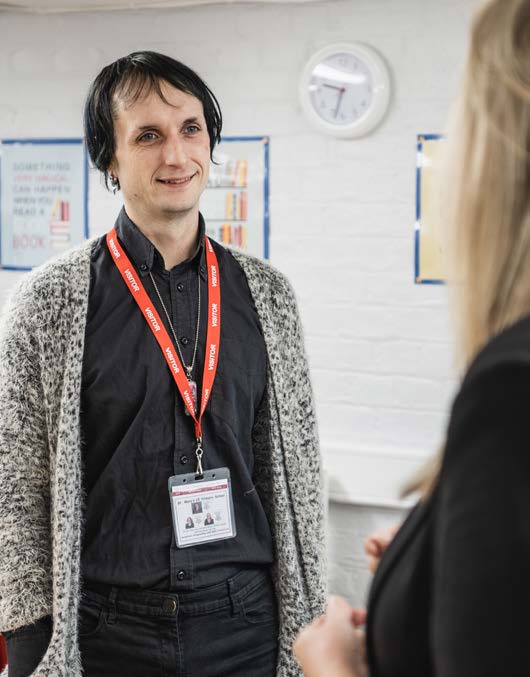 The WLRS team also provided a guide book for the pupils about how to navigate the collection and how to use the Dewey system.
Which means "it is manageable with new books as I can train the children up and they are learning how to sort the Dewey system out for themselves," adds Amanda – in itself a massive time-save and a proper lifeskill.
J emhasises the importance of creating spaces for pupils to read in school libraries. "We provide books to primary schools, so it seems counter-intuitive, but really what WLRS is about is bringing inspiration, promoting more access and empowerment toschool children to foster a love of reading. Having space to do this is a key component – an absolute good for schools and pupils which completely fits with our mission and resources."
Over Zoom Amanda smiles: "That's why we work well together, that's exactly our vision of our school as well. We want reading to be really crucial. In an age of technology, opening a book is really important." And of course having their own library is exactly what the children wanted.