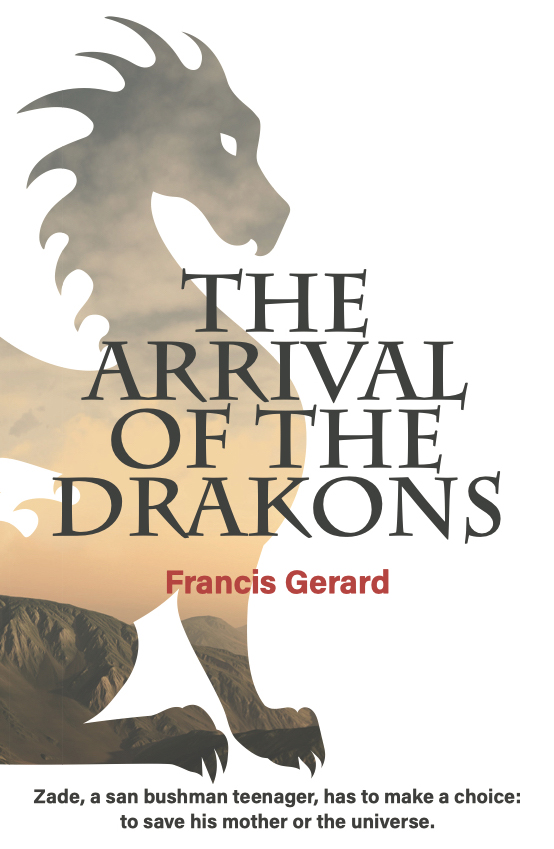 The Arrival of the Drakons
Conceived on VE day (family legend!), Francis Gerard, 77, was born in London and then moved to South Africa at 10 months old where he grew up steeped in stories. This was partly because his father, who has the same name, loved to tell stories to his children and their friends. He also wrote around 30 novels between the two world wars – one famous fan was the actor Christopher Lee (known for portraying Dracula) who employed book hunters to search secondhand shops for the titles he hadn't read.
Growing up in South Africa was complicated. "My father was very anti-apartheid and I loathed the whole process of apartheid. I refused to learn Afrikaans, so it meant I couldn't go to university." Instead, Francis, "walked across Africa in the late 1970s….". When the six-day war broke out between Israel and Egypt he couldn't, "continue as I was in the Sudan, so I went back and took a boat to Calcutta then travelled across India, Pakistan and Afghanistan." Eventually he arrived, "pretty ill" at Istanbul where "I took a train directly into London."
Though Francis now mostly lives in Tooting with his wife and two of his five children, he has had many stints working in South Africa. In 2006 he oversaw the setting up of the Origins Centre Museum at the University of the Witwatersrand, Johannesburg, which reveals the history of early humans in Africa going back more than 2 million years ago. It's where we all come from.
Chinese Culture
As a filmmaker Africa and China have both often been in his lens.
In 1992 Francis produced and directed the BBC documentary on Chris Patten's time as The Last Governor of Hong Kong which was presented by Jonathan Dimbleby. This led to a number of TV documentaries and films covering the Forbidden City; ways China has changed the world and revolutionary art, some made with his wife, Haiyao. See https://totemproductions.tv/china/
"My wife is Chinese and is a fairly well-known as a writer in China. She's called Zheng Haiyao, as the Chinese have their surname first," he says explaining how the pair were approached by a publisher in China who for nearly 40 years had been selling a set of books, that needed bringing up-to-date. "I have a company that designs exhibitions and museums in Africa, so my key designer Renay Kneale and I took the illustrations and remade them for a worldwide English audience, and we then translated all the material and I rewrote it."
Recently, Francis has been working with Wandsworth LRS visiting schools to read from these six illustrated books about Chinese myths and folk tales. He's also donated more than 40 books to school libraries including the Legend of Nezha, The Lotus Lantern, Monkey King (the early years), The Cowherd and the Weaver Girl, Houyi and the Ten Suns and The Flame Emperor's Daughter – for around eight to 10-year-olds.
At the readings Francis asks the children, "What kind of book would you like me to read as there are so many different stories? Monkey King the early years is my favourite. Everyone knows the story of the Monkey King, except they don't – he's so naughty as a child, gone is the responsibility that he has on his back when he's an adult, it's a wonderfully witty story."
As well as introducing these classic stories Francis loves to help the children explore Chinese culture as a "way of getting children and adults excited about reading."
"I go into libraries and find they had nothing about China or books to understand the great stories of the world, except those limited to Britain," says Francis whose home is packed with books from a lifetime of reading.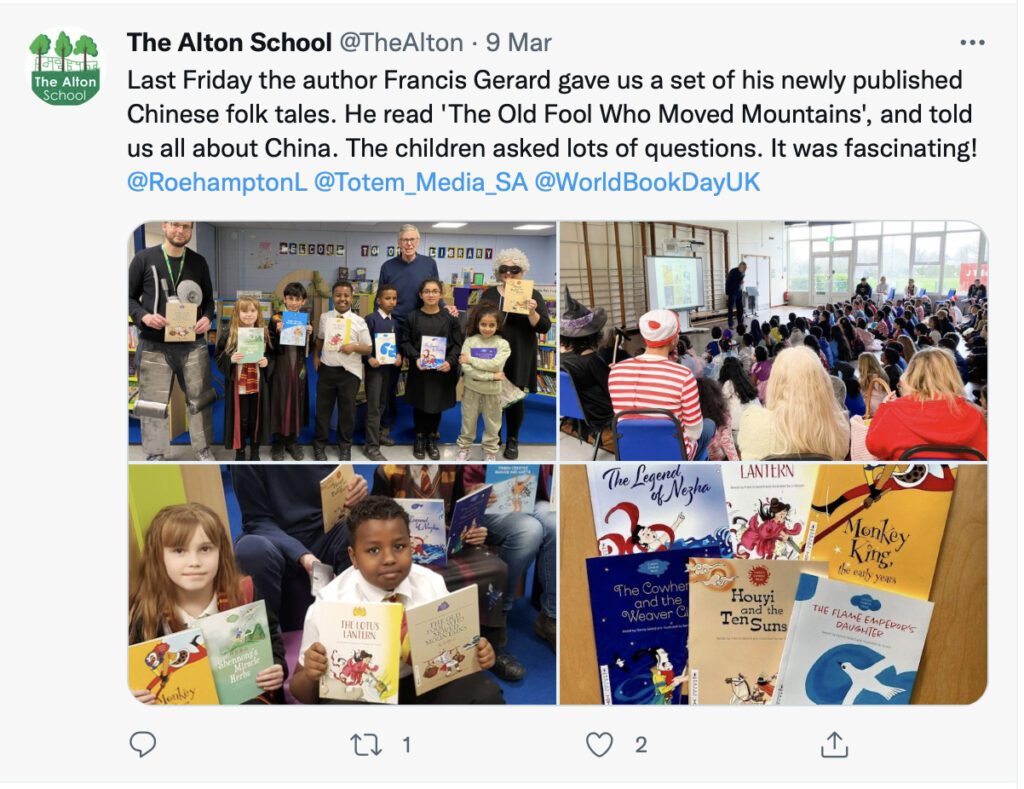 Interestingly Francis' most recent book, The Arrival of the Drakons, YA fiction for teens, was inspired by the story telling tradition. Just like Watership Down it began as a bedtime story that he spun for his two youngest children, now 16 and 21, and weekly Zoom calls with his grandchildren who live in New Zealand. This story is partly based on his knowledge of the San (Khoisan) bushmen from the Kalahari who use trance to access the spirit world, whom he has lived with, filmed and are a key part of the Origin Museum. But The Arrival of the Drakons also brings in his love of sci-fi.
"Drakons are what the aliens call themselves, we got it wrong and we call them dragons," explains Francis who is taking some books to South Africa on his next trip. "I had a continuing story that went on and on, and the children kept saying 'what happens then'? That story was about Zade, the young half-bushmen, half-English child and his adventures, who has a drakon as a friend. The drakons arrived when a colossal meteorite wiped out the dinosaurs. So, it's a story about ancient entities dealing with a young individual who solves one of the big problems that they have…"
Although you may not find Francis' adventures in any library yet, you may already share his passion for books, Chinese culture and stories about the big changes in South Africa reaching right back to the DNA of the San bushmen. Indeed, the San are such a key part of our human story that they are the centre part of the South African coat of arms redesigned in 2000. Even so The Arrival of the Drakons is one of the first sci fi books to feature the San – and all thanks to a continuing bedtime story.